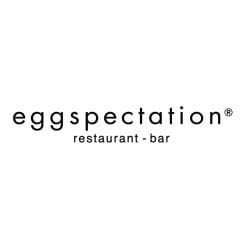 Eggspectation Complexe Desjardins
Our story
The idea sprung to life in Montreal in 1993. We started out with just a few key thoughts and a passion for innovation and memorable experiences.
From the first, we wanted to take our favorite mealtime ingredients and creatively expand their culinary taste delights across not just breakfast and brunch but also to lunch and dinner—set in a welcoming and energetic bar and café ambiance. This new level of innovation has led us to today's satisfying and diverse eggspectation menu ranging from freshly prepared artisanal brioche French toast, thin French crepes, Belgian waffles, fluffy buttermilk pancakes, pastas, burgers, seafood, steak and—of course—eggs benedict! Those Montreal beginnings have grown to fit today's fresh, clean, and very tasty modern American cuisine.
Even after 25 years, we are thrilled to celebrate our customer friendly culture with its focus on service, an eye toward better eating, and a passionate reverence for all things "breakfasty."
Listing Amenities / Liste des commodités
Accepts cash / Accepte les espèces

Accepts credit cards / Accepte les cartes de crédit

High chairs available / Chaises hautes

Outdoor seating / Terrasse extérieure

Wireless Internet / Internet sans fil
Featured Menu / Menu en vedette
190 St Catherine O., Montreal, QC, Canada, Quebec
Opening Hours / Horaires ouvertures
Contact Information / Informations de contact