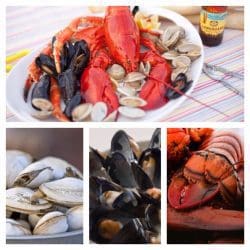 Richard's Fresh Seafood
Richard's Fresh Seafood is one of the Island's longest-running fish shacks, serving customers for more than 40 years at Covehead Wharf.
Have a fish 'n chips and beer on the deck. Grab a blanket and enjoy a lobster roll on our nearby beach. Or just take a stroll and admire the lighthouse, sandy dunes and colourful fishing boats.
Don't forget to also stop by our market next door for a great selection of local seafood, produce, coffee, baked goods, and more—all to enjoy on the wharf or take with you to the house, cottage or campground.
Listing Amenities / Liste des commodités
Accepts cash / Accepte les espèces

Accepts credit cards / Accepte les cartes de crédit

High chairs available / Chaises hautes

Outdoor seating / Terrasse extérieure

Wireless Internet / Internet sans fil
Featured Menu / Menu en vedette
2 Main St, Victoria, Prince Edward Island Canada
Opening Hours / Horaires ouvertures
Contact Information / Informations de contact