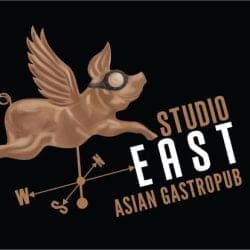 Studio East Asian Gastropub
The Pratt Bothers
Since taking over Studio East 3 years ago, Pratt Brothers Guy and André have made significant changes to the menu, décor, ambience, new furniture, new cutlery and dishware to bring the standards up to match the uniqueness and high quality of food. Expanding the entrée menu and elevating the wine and cocktail menus along with craft beer have made this a place for all demographics. We didn't want a pretentious menu appealing to one crowd. You can still get a burger and fries, ramen or Bao bun with a local craft beer alongside fresh Atlantic Halibut or Duck Confit. Just keep in mind, all of these are done with an Asian twist making this a great Asian Gastropub for all, come see what all the fuss is about.
The Pratt Brothers grew up in the restaurant business working in their family restaurants in Halifax and Dartmouth, NS. They spent a summer working with Chef Michael Smith in Fireworks restaurant at the Inn at Bay Fortune in PEI before going onto the Culinary Institute of Canada Holland College in Charlottetown, PEI. They spent a summer doing their internship at The Merchant Tavern in St. John's NF with Chef Jeremy Charles before graduating from culinary school. After graduation, they joined the Canadian Youth Culinary Olympic Team and competed and won silver medals in Luxembourg. They also spent a season working at Chef Rod Butters' famous Terrafina Restaurant of Hester Creek Winery, Oliver, BC.
Cooking Asian food has been a family tradition for their entire life. When most families have turkey at Christmas dinner, the Pratt family cooks Asian cuisine all day. Having journeyed extensively throughout Vietnam from Hanoi to Ho Chi Minh city, their Asian fusion journey will continue to grow at Studio East with new specials.
Listing Amenities / Liste des commodités
Accepts cash / Accepte les espèces

Accepts credit cards / Accepte les cartes de crédit

High chairs available / Chaises hautes

Outdoor seating / Terrasse extérieure

Wheelchair Accesible / Accessible aux fauteuils roulants
Featured Menu / Menu en vedette
6021 Cunard Street, Halifax, NS, Canada, Nova Scotia
Opening Hours / Horaires ouvertures
Contact Information / Informations de contact