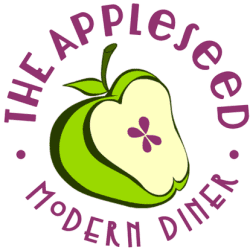 The Appleseed Modern Diner
The Appleseed Modern Diner is a family-friendly restaurant located in the heart of Pictou County.
The Appleseed offers freshly-made comfort food classics that will satisfy the entire family. We are a locally owned and operated business with a focus on partnering with local producers and suppliers. We are committed to planting a seed in our community and working hard to ensure we blossom.
What is a modern diner?
The Appleseed offers diner classics and delicious comfort food with traditional features like a soda fountain in addition to modern culinary trends such as locally sourced, fresh ingredients, specialty coffees, and local craft beer.
Our Community
The Appleseed strives to be a valued part of our community. We hope to become a favourite destination for our friends and neighbours. We are also committed to do our part to give back to help our community grow and flourish. Stop by the restaurant to learn more about some of the ways we are planting our seeds throughout the community.
Supporting Local
The Appleseed is very proud to partner with a number of local suppliers and producers. These valued business partners are helping us succeed in providing our customers with an outstanding product.
Listing Amenities / Liste des commodités
Accepts cash / Accepte les espèces

Accepts credit cards / Accepte les cartes de crédit

High chairs available / Chaises hautes

Outdoor seating / Terrasse extérieure

Wheelchair Accesible / Accessible aux fauteuils roulants
Featured Menu / Menu en vedette
33 MacGregor Ave., New Glasgow, NS, Canada, Nova Scotia
Opening Hours / Horaires ouvertures
Contact Information / Informations de contact