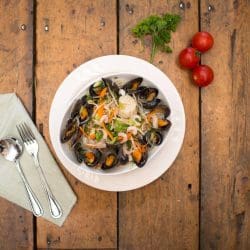 About
The Mill.
The Mill in New Glasgow is a restaurant, community hub and take-out marché that celebrates local food as a connector of people to place, history, family and civic life. Chef Emily Wells and her team are known for serving high quality comfort food prepared with locally-sourced ingredients and international flair.
The Mill's dining room, which overlooks the River Clyde and the rolling hills of New Glasgow, PEI; its eclectic loft; and take-out marché invite you to savour delicious meals in the company of family and friends. Traditional recipes are updated with a contemporary twist, placing local ingredients supplied by PEI farmers, fishers and food producers front and centre. Community is the beating heart of The Mill — the building has a rich history as a public hall and gathering place, which continues today thanks to Emily's work with The River Clyde Pageant, Farmers Helping Farmers, and other local initiatives. Join us for a meal, a drink, or a visit to the marché. We're open Wednesday through Sunday, from 12-3pm for lunch and from 5 to 9pm for dinner.
HISTORY OF THE MILL
The Mill in New Glasgow started life as the New Glasgow Hall, built around 1896. The Hall served several functions in the community; as a courthouse and as a gathering place for social events, meetings, debates and dances. In later years, the New Glasgow Hall was used for training sessions by the Reserve Army, local church suppers, and square dances hosted by the Junior Farmers. In the 1960s, the Hall was converted into a grist mill by the Dingwell family, and sold to Roland Larkin in the mid-1970s. In 1997 it was converted by Roland's son and daughter-in-law, Harvey and Rosemary, into the Olde Glasgow Mill Restaurant. Emily Wells purchased the restaurant from the Larkins in 2015 and renamed it The Mill in New Glasgow.
Public halls played an important role in the life of Prince Edward Island communities throughout the 20th century, as venues for community celebrations, convenings, meals and more. In recent years, The Mill has reconnected with its former function thanks to workshops, picnics and events held there by The River Clyde Pageant, Farmers Helping Farmers, and other local initiatives.
Listing Amenities / Liste des commodités
Accepts cash / Accepte les espèces

Accepts credit cards / Accepte les cartes de crédit

High chairs available / Chaises hautes

Outdoor seating / Terrasse extérieure

Wheelchair Accesible / Accessible aux fauteuils roulants

Wireless Internet / Internet sans fil
Featured Menu / Menu en vedette
5592 Route 13, New Glasgow, PE C0A 1N0, New Glasgow, PE, Canada, Prince Edward Island
Opening Hours / Horaires ouvertures
Contact Information / Informations de contact