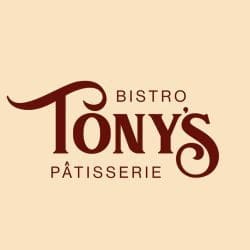 Tony's Bistro & Pâtisserie
Pastry Chef Tony Holden opened his quaint two-table bistro in Moncton, New Brunswick in 2001 and garnered a following on the popularity of his world class croissants and classic French pastry technique. In 2013, as demand grew, Tony's Pastries became Tony's Bistro & Pâtisserie and now seats 75 guests.
Now with a full, from-scratch menu at breakfast, lunch, and dinner, a beer, wine, and cocktail bar, and one of the finest bakery and pastry showcases in Eastern Canada, Tony's is rapidly garnering praise from locals, food publications, chefs and foodies alike as one of the best dining experiences in the Maritimes.
Reach us at 506-384-8669 to make a reservation, place an order, or to talk food.
Listing Amenities / Liste des commodités
Accepts cash / Accepte les espèces

Accepts credit cards / Accepte les cartes de crédit

High chairs available / Chaises hautes

Outdoor seating / Terrasse extérieure

Wheelchair Accesible / Accessible aux fauteuils roulants

Wireless Internet / Internet sans fil
Featured Menu / Menu en vedette
137 McLaughlin Dr, Moncton, New Brunswick E1A 4P4 Canada
Opening Hours / Horaires ouvertures
Contact Information / Informations de contact